When it comes to building a children's playhouse – there's only one way to go: wonky!
Kids love them.
You'll never forget the looks on their faces when they see it for the first time.
And they are pretty easy to build too. And to be honest, it's a lot of fun. If you like pottering around with stuff, you'll love this project.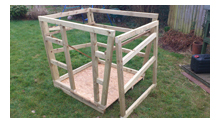 It all started when I went to buy a kid's playhouse for my 3 year old. I couldn't get my breath at how much a decent one was.
Being a natural skinflint, the obvious question then popped in to my head:  how much would it cost to make one?
Turns out it if you make it yourself you'll be saving money (you'll see exactly what materials to buy in the book).
So I camped down online, looking for playhouse plans to buy. But two things happened:
I couldn't find any decent playhouse plans.
I kept finding pictures of kid's wonky playhouses that looked a lot fun.
So I made my mind up. I was going to build a wonky playhouse.
Trouble was, I wanted the house to look purposely wonky – not because it was made by a clueless dad with a hammer.
So I got busy taking pictures of every piece, every stage. Everything. It's the most idiot proof 'how to' you'll ever see.
Hope you enjoy making it. I'm sure you will – but not as much as your kids will love enjoy playing in it.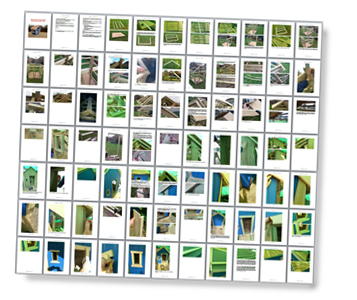 This playhouse is made in sections so it can be taken apart and reassembled at anytime.
The sections are a base/plinth, front and back panels and two sides with the roof made as one and able to lift off.
I used 75mm x 50mm timber for the frames as I already had some left over from another job, you could use 50mm x 50mm if desired.
The front and sides were painted with the architrave and surroundings off. These were fitted and then removed for painting as you'll see in the pictures.
Here's the timber I used:
50mm x 20mm for little window architrave – (1.96 inches x 0.78 inches)
18mm and 9.5mm sterling board – (0.7 inches x 0.37inches)
450mm cedar shingles – (17.7 inch)
50mm x 20mm sawn roofing batten – (1.96 inches x 0.78 inches)
These are all finished sizes of wood.
Quantities used:-
75mm x 50mm = 63 metres / 206 feet
145mm x 15mm (tongue and grove/ship lap) = 64 metres / 209 feet
95mm x 20mm = 39 metres / 127 feet
145mm x 20mm (fascia and barge board) = 12 metres / 39 feet
50mm x 20mm = 2 metres / 6.5 feet
2400mm x 1200mm x 18mm sterling or water resistant ply board = 1 / 3.2 feet
2400mm x 1200mm x 9.5mm sterling or water resistant ply board = 2 / 6.4 feet
For the cedar shingles, the area of the roof needs to be calculated. Mine came in a bundle and I used 2 50mm x 20mm roofing batten = 25 metres / 82 feet
Other materials:- various sizes of screws, 5 metres roofing felt, paint, sand paper and filler, hinges and door handlesOther materials:- various sizes of screws, roofing felt, paint, sand paper and filler, hinges and door handles
Tools used were:- cordless drill, palm sander, sliding bevel, a combination square, tape measure, hand saw, coping saw, aluminium straight edge, level, block plane, chisels and G cramps.
Right – now lets get started!
Step1 – First you need to make your base/plinth.
Cut the 75mm x 50mm timbers to the desired length and lay them out, mine are cut 1200mm long. I have spaced them out 400mm apart, so four is enough. Cut the flooring sheet to size. I've used 18mm sterling board, 1200mm by 1220mm. Fix down with 50 screws.