When it comes to building a children's playhouse – there's only one way to go: wonky!
Kids love them.
You'll never forget the looks on their faces when they see it for the first time.
And they are pretty easy to build too. And to be honest, it's a lot of fun. If you like pottering around with stuff, you'll love this project.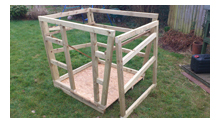 It all started when I went to buy a kid's playhouse for my 3 year old. I couldn't get my breath at how much a decent one was.
Being a natural skinflint, the obvious question then popped in to my head:  how much would it cost to make one?
Turns out it if you make it yourself you'll be saving money (you'll see exactly what materials to buy in the book).
So I camped down online, looking for playhouse plans to buy. But two things happened:
I couldn't find any decent playhouse plans.
I kept finding pictures of kid's wonky playhouses that looked a lot fun.
So I made my mind up. I was going to build a wonky playhouse.
Trouble was, I wanted the house to look purposely wonky – not because it was made by a clueless dad with a hammer.
So I got busy taking pictures of every piece, every stage. Everything. It's the most idiot proof 'how to' you'll ever see.
So download the plans right now – I've made them really easy to follow.
Hope you enjoy making it. I'm sure you will – but not as much as your kids will love enjoy playing in it.
Just so you know what you'll get – below is a screenshot of part of the plans.